I worked a lot on the house today. Put in a pretty full day. First up was repairing the bad subfloor, which wasn't bad at all.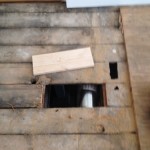 Next, as I was kneeling on the floor to nail the boards down, I felt a little give. Turns out there was another section of the subfloor that needed to be repaired. The board was there, but it was basically cracked and just waiting for a good time to fail. So I cut that bit out and replaced it as well.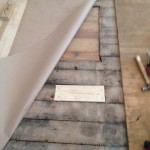 Then it was just put the boards down and nail them in. Things were going well until right before I was going to quit for the day. A piece by the outside wall just wouldn't slide into the groove of the previous piece. Since I had put the brown paper down, I wasn't sure what was under the floor, but I soon found out I was over the section where the cold-air return used to be. This bit was patched rather poorly and I didn't spend a lot of time trying to fix that. And now, was when I was going to pay for it. I ended up taking by multi-tool and cutting out a bit of wood that was basically under the wall. I wanted to the floor to lie as smoothly as possible. I also decided that this was a board that I would have to put a nail right in the top to make sure that it stayed relatively level. The problem was that the previous board appeared to be a bit tilted due to the uneven subfloor. Anyway, I got the board in and called it a day, because I was really tired and I was out of nails. The bad news is that I may have to mess around with the boards in this area a bit more. But I'll see how it goes when I go back.
Here is the current state. I think it looks pretty good.