I got a late start yesterday, but got a few tasks that needed to be done taken care of. First, I went to Menards and found that they had the piece to finish the vent in the kitchen. So I went from this: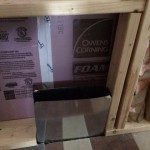 to this: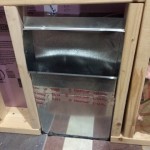 without too much trouble. So my ductwork in the kitchen is done.
Next, I thought I should really fix the one valve in the basement that's leaking. It took a while, but in the crummy picture below you can see where I cut the old valve out and put a new one it. And as far as I can tell, there are no leaks.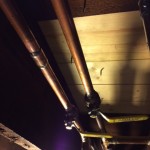 Lastly, I forgot to run the water line to the refrigerator. So I needed to do that. This required me to buy one more piece of copper pipe, since I didn't have enough. I also didn't do such a great job with these pipes, so they look a little crooked. But I'll have to live with it. And you can see from the shot below that I had already installed the insulation when I was sweating the valve to the pipe. So I melted a bit of it. I did have a piece of metal in front of it so that it didn't catch on fire. But it got pretty hot and melted some. You'll notice how it looks wet, which was me frantically spraying water on stuff to make sure nothing caught on fire.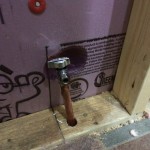 Lastly (though it actually was the first thing I did yesterday), I picked up my new window. It's pretty heavy, but I got it in the house. Installing that will be a job for my drywalling party.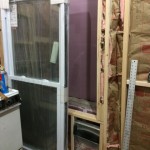 All I have left to do before the drywalling party now is to install the vent for the hood, finish putting the insulation up and run the last piece of pvc pipe to the second floor. I should be able to get those things done next weekend or during the week. So I'm going to schedule it. It should take place in March! Yay!