Archive of posts from 2007
Dec 31, 2007
The XO Laptop
I just received my new XO laptop that I bought last month. It's definitely for kids. I have pretty small hands and the keyboard on the laptop is small even for me. I'm pretty impressed with it though. It's running a version of Fedora, Fedora core 7 I think. But it has a terminal to use and lots of other stuff. I think for kids in developing countries, where cost is the main factor, that these things will work pretty well. Though, it's funny that it doesn't come with any sort of documentation. The kid just has to play around with it. I like doing that, but I don't know how many others do.
Dec 31, 2007
Views of the Shower
Today is the last day of 2007. I think I'll remember this year as the year that I had no shower. It took just about the entire year, but I got things basically done. Here are some pics of the finished bathroom. (Note that there are no shots of the ceiling because that's not yet done.)
Dec 13, 2007
Easy Repairs
I talked to my boss at work today and he told me that perhaps my showerhead had a regulator in it that restricted the flow. I took it off and indeed there was a little plastic regulator. So I took a pair of pliers and pulled it out. I then switched the pipe for the showerhead around because I had it in backwards. This solved my problem of not being able to get the cover on, which makes me happy. I replaced the showerhead and can't really tell a difference in the flow. So I guess it didn't make that much of a difference. Oh well.
Dec 13, 2007
My First Shower
I started remodeling the bathroom on January 27, 2007. I've just taken my first shower in my remodeled bathroom. The entire room is not done, but the tub area is, so I figured I could take a shower. It was a bit of a let-down. I guess I was expecting a fantastic experience after all the work I put into it. But, it turned out to be a shower just like the ones I took before I did anything, except that the water did in fact get hot. (That's more likely related to the fact that I finally turned the heat up on the hot-water heater.)
Dec 2, 2007
Window Tile
Finally, I have the tile done around the window. It's not fantastic, but it's not bad. If I had built the original wall square, I would have had a lot fewer problems. But, live and learn.
Dec 2, 2007
Moving Right Along
Took Friday off from work (where they pay me) to work on my bathroom (where I don't pay me). I got lots done. I painted and put the floor tiles in. Today (or yesterday as I write this), my brother Mark came over and we did lots of tiling on the walls. He was a great help and I got tons more done with him here than I would have done by myself. We got all the tile in around the shower and most of the window done. I just have to finish the top (arch) of the window and the wall behind the toilet and sink. Turns out that I'm going to have to get more tile, but that's ok. No pictures today. It's getting close to being done and I'm getting excited.
Nov 28, 2007
Julius Caesar
Or, to sound a bit more snooty, I saw Giulio Cesare at Lyric Opera tonight. It's a long one. Starts at 6:30 and ends who knows when. I only made it through two acts, but a small part of me wanted to stay for the third. I didn't because I would have gotten home really late and I really didn't love the opera. Sometimes you get great ones, sometimes good ones and sometimes bad ones. I'd put this one in the good category.
Nov 26, 2007
Progress!
Since I spent just about all the time I had off for Thanksgiving (minus the day itself) working on the bathroom, I should have something to show for it. So, here it is. I just finished priming and should be able to paint tomorrow. Then, finally, I can start tiling! I am so looking forward to taking a shower at home, I really can't put it into words.
Nov 22, 2007
Nap Time
It's been a great Thanksgiving so far.  I got up this morning and ran in the Turkey Trot in Lincoln Park.  My goal was to finish in under and hour and though I walked the last 100 yards or so (because I was sure I was going to throw up), my official time was 59:50.  (My ipod showed 59:40, so I may have to recalibrate it.)  Then we went to the Museum of Science and Industry to look at the Xmas trees and I thoroughly enjoyed a special exhibit they had on maps.  Back to my Mom's to eat and now, my brother's family has left to go to his inlaws.  It's now 5pm and most of us are taking naps.  I love this holiday.
Nov 21, 2007
Happy Thanksgiving!
Tomorrow is my favorite holiday. I've decided to list some of the things that I am most thankful for this year.
Nov 16, 2007
Getting Closer
Mickey the Great has just left. He came over today to install the drain for the toilet, shutoff valves on all the pipes in the bathroom and drill a hole in my brick house for a bathroom vent. All the while recovering from the flu. He is altogether deserving of any praise I can heap on him. Thanks Mick! I owe you big time!
Nov 16, 2007
New Toy
Yesterday I bought two laptops through the "Give One Get One" program of "One Laptop Per Child". One of the inexpensive laptops will be sent to me and the other goes to a needy child. Here's the link:
Nov 15, 2007
Progress
Last weekend, we got a lot done. We, being the operative word. Mom, Mark, Paul, John and Jack were all over. They did a ton of cleaning, which was great. Mark helped frame out the medicine cabinet. Then Paul came over and we hung a bunch of drywall. Today, I hung the cement board that goes over the controls of the tub. I have to buy a door so that I know where to end the drywall on the last wall. And then I'll be ready for tile!
Nov 9, 2007
Faster?
Today my dsl from Speakeasy was updated. The installation went ok. The guy from Covad was terriffic. He really knew his stuff and got everything set up properly, though it took a bit of time. The Speakeasy group, on the other hand, disappointed me.
Nov 5, 2007
House Pains
I haven't written much about the house lately, not for lack of work on it. I'm just tired of explaining to people that it's still not done. I work slowly because I really don't know what I'm doing. Yes, it is a pain to have to go elsewhere to take a shower, but it's not the big of a deal.
Oct 30, 2007
Back to the Default Theme
As is obvious, I am back at the default theme for the blog. I liked the Beautiful Sunrise theme, but I got html errors sometimes when logging in for administrative purposes. That just bugged the heck out of me, so I went back to the default.
Oct 28, 2007
Don't Like This Theme
I just noticed that my categories don't show in this theme. So, now I don't like it. I'm going to have to search for a new one.
Oct 28, 2007
Possibly Another iPhone Crack
Janet's friend Becca is working with a Dutch doctor at the World Boxing Championships going on in Chicago right now. He was asking her about getting an unlocked phone that he could use in the Netherlands. I started laughing at dinner when she mentioned it and told her that I didn't know about other unlocked phones, but that I could unlock an iPhone, if he wanted that. Becca didn't think she did, so I asked John and he said that anyplace will sell and unlocked phone, it just costs a bit more. Though today Becca sent me a text message saying that the doctor would like an iPhone after all. I figured. They're pretty cool. Anyway, if I crack an iPhone for him, he's going to get me really good (maybe ringside) seats. So this might be fun. He's supposed to buy it tomorrow, so maybe I'll see the boxing later this week.
Oct 28, 2007
Not a Productive Weekend
Friday night I went to a play at Victory Gardens, called "A Park in Our House", I think. It was ok. About a family in Cuba in the 60s, I'd guess. I enjoyed it and Janet's friend Becca and I were saying that we liked this one better than the last one we saw. And it's true in that this one was easier to follow. Funny thing is, I think about the first one "The Defiant Muse", more. Though I'm pretty sure that this is because I'm still trying to understand it completely. It was about a writer whose main character seemed to come to life for her. So, it jumped back and forth between real-life and life with her character. It was pretty interesting how they did it, but since there were only so many actors, I wasn't really sure if it was real-life or a scene from her book. Oh well, either way, it's great to see live theater.
Oct 24, 2007
New, New Theme
The fact that my previous theme didn't show the year of the post ended up really bothering me. So, I found a different new theme. This one does show the year and has a little menu for searching older posts, which I love. I've had this blog for over two years, so the listing of all the months was starting to get a little out of control. My only gripe with this theme is that there isn't a link to login or for the admin stuff. Right now, I just put a wp-admin at the end of the blog link. I guess I can make a simple page that will take me to the login page.
Oct 24, 2007
My New Theme
As is obvious, I have changed the theme of my blog. I downloaded one called beautiful-sunrise-10 and really like the look of it. My one complaint is that the year of the post is not shown with the date. This may end up bugging me more than it does now. And if it does, I'll probably go back to the default theme, which was ok. The other issue I have is that I'm getting errors like this:
Oct 22, 2007
WordPress Upgrade Failed
I tried to upgrade my wordpress to the new version and sadly it didn't work. I ended up putting the new version in an entirely new directory. But then, I still was unable to change the colors or appearance of the new blog. I then decided that the upgrade was pointless because the main reason that I wanted to do it was to change the appearance. So, the look will remain the same.
Oct 21, 2007
WordPress Backup
I'm upgrading wordpress, the software that runs this blog and want to note the commands to backup the database.
Oct 19, 2007
David Sedaris at GSU
I just returned from a David Sedaris reading at Governor's State University. It was great. He was funny as always. I was a little worried because three of my cousins and their husbands came to the show along with my sister Julie. Julie is familiar with David Sedaris' books, but I don't think any of the others were. I was nervous that maybe they wouldn't enjoy it, but I think everyone had a great time.
Oct 17, 2007
iPhone to the Netherlands
John's friend Mark is going back to the Netherlands today. But since his sim chip worked in John's iPhone last night, he decided to buy himself one before leaving. So, I met him at John's apartment and we cracked his phone and got it working. One note is that you should have internet access easily available to do this. Whenever iTunes starts, it wants to access the iTunes Store and you won't get the annoying error messages if you're hooked to the internet. Also, since we had no access, I had to use my laptop to "Create Network" to make a wireless network so that I could ssh to the iPhone. To do this, I also had to manually set the ip address, netmask and gateway on the iPhone. It all worked, but would have been quicker if we just had a wireless network to use.
Oct 17, 2007
iPhone and EDGE
John's iPhone works fine on the T-mobile EDGE network. Just use these settings:
Oct 15, 2007
Breaking New Toys
My brother John got his second iPhone last week. He returned the first one because he got lousy reception from AT&T in his house. Now that he's living in a new apartment, he tried it again. And, of course, he still has crappy reception with AT&T. So, he asked me if I'd help him to unlock his phone so that he could use it with T-mobile. Sounded like fun, so I was in. (One drawback was that I wasn't working on my bathroom while doing this.)
Oct 10, 2007
A Night at the Opera
I just returned from the first opera in my series for this year. It was La Boheme and I enjoyed it. Not the best opera I've ever seen, but good nonetheless. I've decided that great operas have three things going for them, great music/singing, a great story and great sets. This one only had great sets. They were truly beautiful. The story is dumb, boy meets girl, they fall in love, girl dies. Nothing too interesting there. The singers were good, but not great. I had a hard time hearing them, at times, over the orchestra. Great singers are always easily heard. Still, overall I enjoyed it. It's not like I left early. Though, this one had two intermissions and as far as I can tell, they were to change the very elaborate set, which was very cool. The sequence was the first two acts, intermission, the third act, intermission, the fourth act. The third and fourth acts seemed really short to me, but that's all they needed before changing sets. So that's the way it goes.
Oct 7, 2007
Crazy Marathon Day!
Today was the Chicago Marathon. My sister Julie and I made signs for the people we knew running and went downtown to watch it. It was a bit hot, but as spectators, we stayed in the shade most of the time. We spent the a couple of hours at the halfway point (13.1 miles) where we saw our cousin Greg and Julie's coworker Cheryl. Then, we biked down to Archer and met up with our brother Paul to watch some more. We saw Greg and Cheryl again and Paul's boss Roberta. We were heading up to catch up with our cousin who was watching her daughter when we heard that the race had been cancelled. One guy died and a bunch of people ended up getting sick from the heat. I felt bad for the people who did all that training and didn't get a chance to finish, but it was probably better to stop than to get hurt from the heat.
Oct 5, 2007
Happy Birthday to Me!
Today is my birthday, and the annual Mary tradition is to not work, so I'm keeping that one today. I had great plans to go and do something fantastic, but those plans all fell through. So, I'm going to do my usual thing and go downtown to hang out. I also want to go to this new store:
Aug 28, 2007
Last Day in NYC
Today is our last full day in New York. It's been a good trip. I saw two good plays, "Curtains" and "The Year of Magical Thinking", went jogging in Central Park, visited the Cooper-Hewitt Design Museum and saw some great tennis yesterday. The jogging was cool, though my knee started to hurt A LOT after about three miles, so I didn't really run all that much in Central Park. Plus, it then hurt for the rest of Sunday, which wasn't cool for all the walking around that I wanted to do. But, with downing copious amounts of ibuprofen and icing it when possible, I made it through the day.
Aug 25, 2007
A Year of Magical Thinking
I've just returned from the play "A Year of Magical Thinking" and wanted to put the ideas floating through my mind down before they left me. This will sound jumbled, but I want to get them all down.
Aug 25, 2007
Best $3 Spent in NYC
I'm writing from my hotel room in Times Square. Resting up before going to see the closing performance of Vanessa Redgrave in The Year of Magical Thinking. It should be a good show. Last night, we saw Curtains, which was excellent. A big, brash musical. Tonight should be a bit more subdued, which should make a nice contrast.
Aug 17, 2007
Paul's Show
My little brother is in a band and is currently putting on a show that lets a bunch of bands play short sets and some visual artists display their work as well. I went to the first night at The Empty Bottle and it was really good. I liked most of the bands more than I thought I would have. I'm going again tonight with some friends and may go on Saturday as well.
Aug 14, 2007
Next.
The more I think about it, the happier I am that I did the half-marathon. I definitely want to train to do another one, but this time to do it for time. I'm pretty sure that I could do it in less than 3 hours, so I'd like to try for that.
Aug 13, 2007
It's Over
Today, I am not working. I took the day off, thinking I would need it to recover from the half-marathon that I ran yesterday. Turns out that I really don't need it. My muscles are a little sore, but I feel fine. We did not go fast at all in the half-marathon, my time was around 3:18. In fact, I felt so good yesterday that I cleaned out my entire living and dining room, threw out my old couches and went and bought a new one.
Jul 8, 2007
Glass Block Window Installation
The glass block window went in really easily. John, Janet and I had it in and mortarted in about two hours. I saved about $500 by doing it myself instead of hiring the guys I called.
Jul 8, 2007
Catching Up
As soon as I get some time, I'll post the pictures from Bloomington. I didn't take too many because the battery on my camera died on the first day and I forgot to bring my charger. But I'll have Jack's and Em's pictures to put up as well.
Jun 28, 2007
My Bloomington-Normal Trip with Emily and Jack
We are sitting in our hotel room in Bloomington, waiting for a pizza for dinner. Here is Em and Jack's narrative of the trip so far:
Jun 11, 2007
Another Route
Rode the #74 Fullerton bus today, en route to my cousin Janet's house to pick up her car. I picked it up in Lincoln Park, by DePaul and rode it to California.
Jun 6, 2007
My House Has a Hole
I finally took the old, rotted window out of my bathroom. This left me with this hole.
Jun 6, 2007
Add a Route
After returning my cousin Janet's car to her house, I took the bus home. Pleasantly, this involved taking a new bus route. So, I can now cross off the #52 California/Kedzie bus off my list of routes. I took it from Logan Blvd to 36th. Then transferred from to the #35 which brought me home. Total travel time: 1 hour
Jun 3, 2007
My Runs
The Nike Plus website is letting me share my last 5 runs with the world. So, I've copied the code and am posting it here to see how it looks.
May 16, 2007
My Longest Run
Yesterday, after work, I put on my new Brooks running shoes and went for a long run. (Note: It was raining pretty hard, though not when I started.) I was shooting to go around 4 miles because that's my long distance these days. I ran from my corner to the park and then three times around the park. I thought I'd also run home too, but my calves were feeling really sore and I thought it best to stop there. Turns out that I ran 4 1/2 miles! I had run for over an hour, as I still go pretty slow, averaging a just under a 14 minute mile. Not fast, but not bad, in my opinion. Needless to say, after walking home, I was incredibly sore. The muscles in my legs got really stiff. And they were pretty stiff this morning as well. Later in the day, they got better and now (around 10pm) they're ok.
May 12, 2007
Bathroom Work
Finally, I got a good day of work in on the bathroom today. Basically, I built the wall by the sink. Here's what it looks like.
May 2, 2007
My Strange Goal
I've had this thing that I've wanted to do for a while. I don't know why I want to do it, but I do. I'd like to say that I've ridden every bus or el line in Chicago. And not just taking a ride so that I could say that I've ridden it. I want to actually go places which require me to ride every route. I know it's nuts and I don't know why I want to do it, but I just do. I've ridden a number already and I'm going to create a single page listing all the routes I've ridden. Then, as I ride a new bus route or el line, I'll add them to my list. Today, I rode the #12 Roosevelt and the #9 Ashland (though I've ridden that one in the past).
Apr 17, 2007
Bathroom Floor—Happiness
Here's what my bathroom has looked like of late.

Apr 17, 2007
Running
This Sunday, I ran 3.25 miles and felt ok afterwards. Maybe I can do this half-marathon after all.
Apr 13, 2007
A Crazy Idea
So, my friend Laurie Strahinski emailed me the other day, asking if I wanted to run a half-marathon with her in August. Now, as I'm easily 50 lbs. overweight, this seems to be a ridiculous idea. But, because I am an idiot, I agreed. I have been going to the gym off and on (more off than on), so it's not like I'm starting from scratch. My first week, I could run two miles pretty easily. Now, I'm up to three miles in just under 40 minutes. So, I'm not breaking any speed records, but I'm doing ok. I'm trying to run three times a week, though I'm not sure how my knees will hold up.
Apr 13, 2007
Work Continues…
Tonight, I finally got off the old cast-iron drain from the tub. It was connected to the main stack with lead. So I had to drill some holes into it and then just chisel it out. I broke one drill bit (9/16″ RIP) and also cracked the screwdriver that I was using to pry it out. But, after about 2 hours, I got the pipe out. So, I'm very happy that's over.
Mar 21, 2007
Fixed Bedroom Electricity
So, as I was going to bed last night, I plugged my laptop in the outlet by my mattress and poof, lights in the room went out. I thought I had blown the circuit, but then turned and found that the stuff plugged in on the other side of the room was still on. I went to the basement and found that the circuit was not blown. I figured that whatever was loose in the box that I put the cover on the other day, must have finally separated. Since it was around 11pm when I discovered this, I decided not to try to fix it immediately. (I don't ever work on stuff when I'm tired because that seems to be when I make truly dumb mistakes.) I shut the breaker off to the room, just to be on the safe side and went to bed. I got up around 6am and decided to check the wires in the one box. After retwisting them together, I put the cap on and some electrical tape for good measure. When I turned the breaker back on, everything worked fine. So, small problem fixed.
Mar 19, 2007
Removing the Floor
The last bit that I need to remove from the bathroom is the floor. Rather, the sort of vinyl top and plywood floor that's over the subfloor. This is a royal pain. Why? Screws! The vinyl (it's not really vinyl, but I don't know what it is) floor is covering the heads of the screws, so it was really hard to get up. In fact, I only took up half the floor. I used my circular saw to cut it into pieces and then had to pry the pieces off. This was really hard and my back is pretty sore. It's just proving to me how much better screws are at holding things than nails. Tomorrow, hopefully, the rest will come up and I'll be done gutting.
Mar 18, 2007
Electricity in the Bathroom
After a stupid mistake yesterday, where I learned a valuable lesson about rough edges in conduit and what happens when you cut through the coating on wire, I finally have electricity in the bathroom. (Lesson, MAKE SURE all edges on conduit are SMOOTH because if you hook a wire and rip through the coating, it's a HUGE flash and will scare the bejesus out of you.)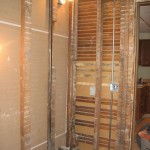 Mar 18, 2007
Empty Bathroom and Bad News
Here's a shot of my completely gutted bathroom.
Mar 12, 2007
Boneheaded Mistake
I still haven't put the pictures of the bathroom up. I've taken some, but am too lazy to get the cable for my camera out. Anyway, I can describe the bathroom, it's completely empty. I spent Sunday morning cutting the old cast iron vent pipe (that was connected to nothing on either side) to get it out of the wall. Tonight, I decided to move the electrical conduit that went across the ceiling and up next to the main stack. I did a really good job of bending the conduit, which was a little difficult because it wasn't a 90 degree bend. But then stupidity took over. The way the conduit came up, it looked easy to just run it right into the cover of the box in the attic. So, that's what I did. Then, as I was struggling to put the cover on (after I reconnected the 6 pairs (3 black, 3 white) of wire, did I realize that I forgot to put the little ring on the inside of the conduit. So, the conduit I just added doesn't really stay attached to the box. Basically, I just ungrounded everything upstairs. So, tomorrow, I'll be doing basically the same thing I did today, just hopefully, I'll do it correctly.
Mar 3, 2007
Bathroom Demolished
Thanks to my cousin Janet, my tub is gone. And just about everything else in the bathroom is gone as well. Pictures to follow…
Mar 1, 2007
Back to Work…
…on the house, of course. I've just about finished gutting the bathroom. It was a pain because it was updated at some point. Whoever did it, didn't remove the old plaster and lathe, they just put drywall over it. So I had to remove both the drywall and the plaster/lathe. Fun. And, as an added bonus, I no longer have anywhere to take a shower. But, one of the reasons that I joined the gym at work was so that I could take a shower there before work. So, this isn't really a big deal. The coolest thing though is that I now have a window in the bathroom. I LOVE it!
Feb 26, 2007
Ski Trip
I have recently returned from a nice vacation where I went skiing for the first time in my life. I went to Park City, Utah to Deer Valley Ski Resort with my sister Julie, my brother John and John's Dutch friend Mark. We stayed at the condo of my sister Nancy's friend Sharon. (Thanks Sharon!) I forgot to take my camera, so I don't have any pictures to post. But if I get pictures from those who did bring cameras, I'll put them up.
Feb 1, 2007
Working with Ruby
To set up a new project: ruby cookbook (using cookbook as the project name)
Jan 30, 2007
Working with Ruby
Now that ruby and mysql appear to be working ok, I need to set up a new database. First of all, look at the config/database.yml file. The root user password (or whichever mysql user that you're going to use) must be put in this file. Then, the database must be created:
Jan 30, 2007
Website Design
I need to do some major web design work, so I'm trying to decide how I'm going to tackle the project. I want to use a database and other dynamic stuff, so I was thinking that I'd use php and mysql. But after reading some webpages, I think I'm going to try to learn about Ruby on Rails. It's more complicated to start off, but should do lots more of the things that I want. So, to get started, I'm loading it on my mac. First step is to load Xcode, then I have to fix the version of ruby that comes with the mac.
Jan 27, 2007
Bathroom Has Begun
I finally started working on my bathroom. I'm going to gut the entire room, fix any plumbing issues and then put new stuff in. The putting new stuff in is a little foggy right now because I'm really not sure what I want to do. So, I'm off to the bookstore to get some magazines about remodelling bathrooms, so I have an idea of what I want to do.
Jan 24, 2007
I am an idiot
So, after running the migration assistant and copying all of my data, everything was fine except for X11.  Since I use X11 at work on a daily basis, it was very important for me to get this installed.  I decided that I would delete everything I could find from the old X11 stuff and install it new.  Then, I also grabbed the latest updates from Apple.  Reboot and NOTHING.
Jan 23, 2007
New Laptop
My incredibly nice boss bought me a new MacBook Pro, which I just received today. I am now in the process of trying to set my new laptop up just like my old one. I thought I would really look forward to playing with my new toy, but I'm actually dreading it a little. My old PowerBook ran pretty much the same software, so things aren't really going to be any different. I just have to schlep all my data from the old laptop to the new one. I did use the Apple Migration Assistant to move my programs and things. This worked ok. I still had to go through and delete old versions of things and old programs that I no longer wanted. My iphoto library has come over fine and I'm now waiting for my music library to come over.